You are hereICT oplossingen - professioneel of particulier
ICT oplossingen - professioneel of particulier
---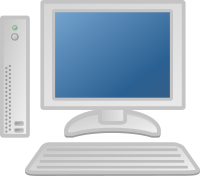 Wij bieden diverse producten en diensten aan omtrent hard- en software, zowel aan professionele als aan particuliere gebruikers.
Voorbeelden hiervan zijn:
Ondersteuning bij de aanschaf (of uitbreiding, vervanging of optimalizatie) van hardware.
Het opzetten of verbeteren van een bedrijfsnetwerk.
Software (installatie, configuratie, upgrades, etc) voor het verhogen van productiviteit d.m.v. gepaste softwares, virus preventie, tuning van data en software op bestaande PCs, laptops of servers.
Implementatie van backup voorzieningen als bescherming van bedrijfsinformatie tegen diefstal, verlies, brand.
Etc.
Waar gepast zorgt AbitMORE voor de aanschaf, levering, installatie en configuratie van benodigde hard- en/of software, en dit alles op maat van de klant.
Hieronder een overzicht van onze producten en diensten die wij kunnen aanbieden: